Ensuring rights and choices for all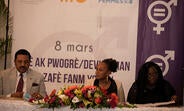 25 November 2018
Joint UN Statement on International Day for the Elimination of Violence Against Women
Statement by the Heads of UN agencies, UNFPA, UNDP, UNICEF and UN WOMEN, calling for solidarity with survivors and survivor advocates and women's human rights defenders who are working to prevent and end violence against women and girls.   To commemorate this year's International Day for the Elimination of Violence Against
11 October 2018
A Skilled GirlForce is a force for change!
Dr. Natalia Kanem Executive Director of UNFPA, the United Nations Population Fund Statement on the Occasion of the International Day of the Girl 11 October 2018   We believe in the power of girls to change this world for the better.  Let's give them the chance.   Too many girls face roadblocks on their journey to adulthood.

This report entitled "Safety & Dignity for Women, Adolescent Girls & Young...

The 2018 Haiti humanitarian response plan estimates 2.8 million people will be in need...
No vacancies currently available