You are here
Country Representative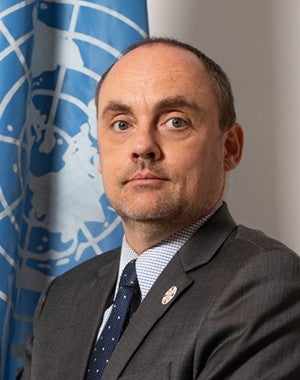 Yves Sassenrath
Yves Sassenrath has been the Representative of UNFPA in Haiti since November 2018. He is a native of Luxembourg. He is fluent in English, Spanish, French, German and Portuguese. He holds a Masters with joint Honors in Political Science and Philosophy from the University of Glasgow in UK, Scotland. Yves Sassenrath has over 20 years of experience in development cooperation and management in international NGOs and multilateral organizations.  
Yves Sassenrath joined the United Nations Capital Development Fund in Senegal in 1999, where he oversaw local governance, decentralization, rural infrastructure - and microfinance programs at sub-regional level. 
He was then appointed in 2009 as UNDP Deputy Resident Representative in Venezuela. During this assignment, he led the UNDP effort in support of the 2011 Venezuela Census.
In 2015, Yves joined the UN Population Fund (UNFPA) as Deputy Representative in Brazil. In this function, he has worked on the development of a new five-year country program in the areas of Reproductive Health and Rights, youth, population dynamics and South-South cooperation to implement the global Agenda for Population and Development within the context of the Sustainable Development Goals (SDGs).