You are here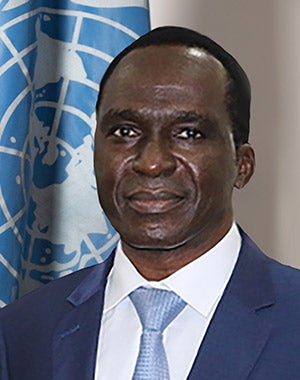 Saidou Kabore
Saidou Kabore is the current UNFPA Representative in Haiti. He is from Burkina Faso. He is an economist specializing in planning and development and holds a Masters in Economics from the University of Ouagadougou-Burkina Faso.
Saidou Kabore has over 30 years of experience in the management of population programs, reproductive health, gender equality and the fight against gender-based violence. Saidou Kabore has worked with the governments of several countries, International and Non-Governmental Organizations and Agencies of the United Nations System.
He joined UNFPA in 2001 as National Monitoring and Evaluation Program Administrator in Burkina Faso. Since then, he has held the positions of: Acting Deputy Representative of UNFPA in Niger in 2010, Assistant Representative / NPO Population-Development of UNFPA in Burkina Faso from 2004 to 2012, Deputy Resident Representative of UNFPA in Côte d'Ivoire from 2012 to 2018.
Before starting this mission in Haiti, Saidou Kabore was UNFPA Resident Representative in Mauritania from 2018 to 2021.