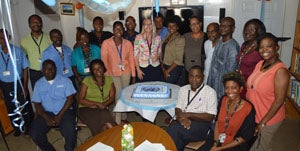 Port-au-Prince, October 24th, 2015 --- This is through a user-friendly ceremony and around a cake with UN official logo, that UNFPA, the United Nations Population Fund, celebrated in Haiti, the United Nations Day, October 24th.
Addressing the staff of UNFPA HAITI, Marielle Sander recalled the spirit that has presided over the creation of this world organization in 1945. ¨In 1945, countries gathered to save the planet from disasters that the world had known - and had caused, inter alia, millions of dead and wounded - and to agree on guiding instruments to prevent the recurrence of such errors¨, said UNFPA Representative for Haiti. 
¨This shift, which Haiti is involved in as a founder member of the UN, should be a source of pride and inspiration in our daily work¨, said Ms. Sander to UNFPA HAITI staff.
In a press release, the Special Representative of the Secretary-General of the United Nations in Haiti, for her part, indicated that ¨the United Nations are grateful for the status acquired by Haiti as the first black Republic in the world, founding member State, and its crucial support to the Human Rights Universal Charter, universal human values¨.
Sandra Honoré congratulated Haiti for the significant progress regarding some Millennium Development Goals - enrollment and gender parity in education in particular - which the SDGs (Sustainable Development Goals) are based on.
¨The United Nations team also encourages and supports the Government of Haiti in its efforts to tackle complex challenges related to the SDGs¨, insisted Ms. Honoré.