Profile of its first Dean
Nadège Daudier is the first Dean of the Faculty of Midwifery. This faculty has an off-site training program in three locations in the West, North and South.
Officially appointed on November 23, 2021, she is the head of a board composed of 8 midwifery instructors: a Vice-Dean for Research, a Vice-Dean for Academic Affairs, 3 Heads of Department for Research and 3 Heads of Department for Academic Affairs.
The Port-au-Prince Center has already been operational for several years. The North Center was to be inaugurated on October 27, 2021, in Limonade, by the Minister of Public Health and Population and the Rector of the State University, Fritz Deshommes, in the presence of the UNFPA Representative in Haiti, Yves Sassenrath, and the new Canadian Ambassador, Sébastien Carrière. The South Center, damaged by the August 14, 2021 earthquake, is being rehabilitated to receive new students.
Skilled work experience
At 44 years of age, Daudier relies on her experience and that of the Governing Board members to carry out her mission. At the Institut National Supérieur de Formation des Sages-femmes (INSFSF), she has supervised no less than six classes of midwifery students.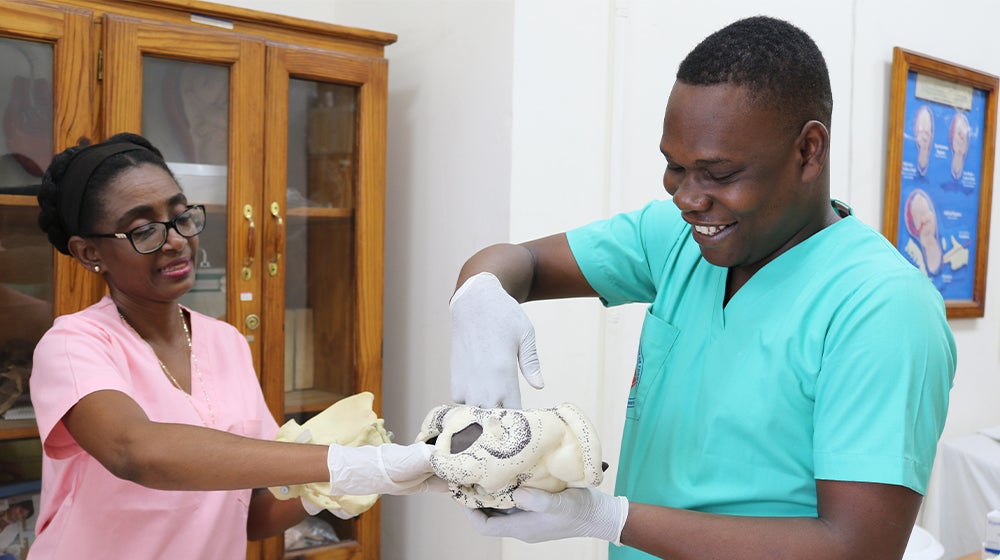 She loves working in the country's remote areas with those with the lowest economic means. She grew up in a small town called Moreau, not far from Camp-Perrin, in the Southern Department.
After her primary education in Camp-Perrin and her secondary education in Port-au-Prince, Daudier completed her studies at the National School of Nursing of Port-au-Prince (ENIP) and at the National School of the Higher Institute of Midwifery.
Daudier has received training abroad, including in Martinique, Japan and France. These have enabled her to fulfill her varied responsibilities in midwifery education. 
What about responsibilities?
Beyond the issues related to the management of the Faculty, the Dean believes the governing team has tremendous responsibilities. According to her, these include, among others:
Implementing the training curriculum in order to produce highly competent professionals.

Promoting midwifery throughout the country.

Enhancing midwifery practice to help improve reproductive health indicators in Haiti, including the maternal mortality rate which remains the highest in the Americas.
The INSFSF incorporates the UEH
According to the Dean, from an initial 3-year duration, the training curriculum of the Institut National Supérieur de Formation de Sage-Femmes (INSFSF) was revised to 4 years, enabling it, following institutional reforms, to incorporate the State University of Haiti (UEH) as a Faculty of Midwifery.
Daudier explains that different levels of responsibility were put in place for the smooth running of the Faculty of Midwifery. "The governance team attended trainings (capacity building in management) along with the staff", according to her. "The midwifery teaching staff has been recruited and training sessions for midwifery instructors have been organized", she adds.
The 9 midwives of the governing team will be working in the West, South and North. 
At the University Peace Hospital and the International Medical Aid
Daudier began her professional experience at the University Peace Hospital (HUP/UPH) where, as a midwife in the reproductive health unit, she was in charge of prenatal consultation, vaccination of women, family planning, delivery and postpartum, postnatal consultation for the mother and newborn, education and awareness sessions for women and their relatives.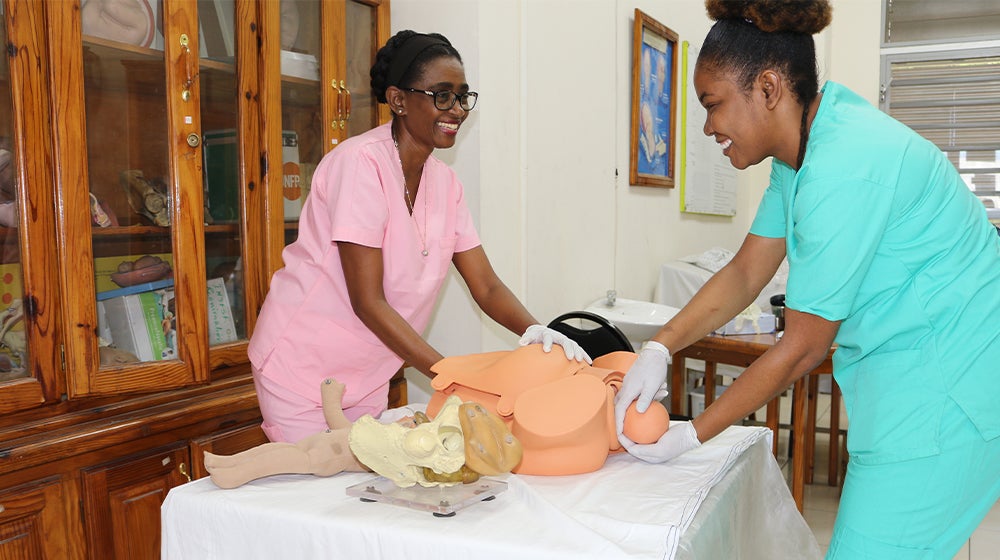 She later became the Reproductive Health Program Manager at International Medical Aid (AMI/IMA) in Saint Michel de l'Attalaye. She coordinated a team of 2 doctors, 4 nurses and one midwife. This team conducted mobile clinics, rally posts, focus groups, and delivered free medicines during medical consultations. Daudier met with women, families and the whole community that needed her. Education sessions in schools and radio broadcasts were also conducted.
With Partners in Health and Save the Children
At "Partners in Health" (PIH), in Thomonde, in the Center Department, and at "Save the Children", in Ganthier, in the West Department, she continued her work in sexual and reproductive health, particularly in pre- and post-natal consultations, childbirth, family planning, PLWHA testing and care, Prevention of Mother-to-Child Transmission of HIV and AIDS (PMTCT), precancerous lesions' screening and treatment through VIA and cryotherapy.
After working with these two institutions, Daudier decided to start a family. With her husband and children, she feels happy and fulfilled.
At the Institut National Supérieur de Formation de Sage-Femmes
Daudier entered the Institut National Supérieur de Formation de Sage-Femmes, after a competitive examination, as an internship instructor. She supervised students in the institution's training laboratory in skill development before going to the clinical setting to work on women and newborns. She helped them master the skills needed to practice midwifery.
Shortly thereafter, she became an instructor. She taught midwifery students about the midwifery process, breastfeeding, care of the physiological newborn and medication administration.
Three years later, in 2013, she was appointed Director of Internship by the Ministry of Public Health and Population (MSPP). Since then, she has been coordinating and planning student internship activities (clinical and community internships) in Port-au-Prince and in some of the country's remote areas.
"I am confident that midwifery is an unquestionable pillar in health promotion and maternal and neonatal morbidity and mortality reduction in Haiti."
"When properly used, midwives can be valuable sexual and reproductive health resources to reduce maternal deaths in Haiti by 90%," she says.
Financial support
The program to extend midwifery training, a 3-center Faculty, supported in part by the national budget, is co-funded by Affaires Mondiales Canada/Canada Worldwide Affairs (AMC/CWA), through UNFPA, the United Nations agency in charge of sexual and reproductive health. 
Midwives have a pivotal role in maternal and neonatal mortality reduction efforts and the access to sexual and reproductive health services, including for adolescent girls.
According to the sixth Survey on Mortality, Morbidity and Use of Services in Haiti, 2016-2017 (EMMUS VI), Haiti's maternal mortality rate is particularly high, at 529 deaths per 100,000 live births. On average, 42% of births over the past five years were attended by a trained provider and only 39% occurred in a health facility.
Haiti would need 2,200 midwives to cover the needs of Haitian women and improve maternal and neonatal health. The country only has about 400 professional midwives and 116 currently in training.
Investing in midwifery education promotes the life and well-being of women, families, communities and the country as a whole through their life-saving mission.
Story : Vario Sérant
Photo : Jhunie Ganème