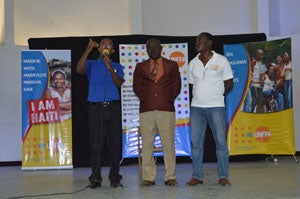 Port-au-Prince, November 7th, 2015 --- As part of the launch, very soon, of the Report on the State of World Population 2015, UNFPA, the United Nations Population Fund, organized, in Cape Haitian schools, 4 and 5 of November, several awareness activities on sexual and reproductive health (SRH) in  humanitarian emergency settings.
These activities held, more specifically, in the public schools ¨Philippe Guerrier¨ and ¨Toussaint Louverture Bréda¨, consisted of a forum theatre, led by the theatre group ¨Rescapés¨ and a youth forum around this same theme.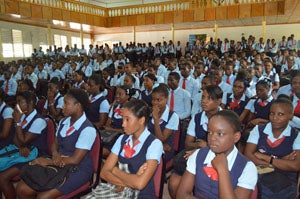 Several hundred young people attended those sessions. They had the opportunity to identify issues related to SRH in Haiti, especially in humanitarian emergency settings, and to make several proposals to solve these issues.
In addition to questions for policy makers, they also specified what they can do, themselves as young people, to help solve the various problems identified.
This is the second series of awareness-raising activities on sexual and reproductive health in particular, organized by UNFPA, in the second city of Haiti, in less than two months, in collaboration with the Departmental Directorate and public school Directors.