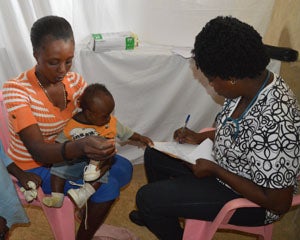 Port-au-Prince, Nov. 13, 2015 --- At 19, Rose Myrtha Dérissier is already the mother of a child. This teenager of Baie d'Orange, a landlocked and disadvantaged locality of the South East of Haiti, now decides to plan her life.
"I just got to apply the" 5-year method ". I have a child, I would not like to have a second one, because life is too hard, I do not have the means for that."
Rose Myrtha expressed herself at the end of the fifth mobile clinic, with awareness sessions on sexual and reproductive health - including family (FP) - organized by the Ministry of Public Health and UNFPA, the United Nations Population Fund in the communal section of Belle Anse, on November 11, 2015.
Ambreville Ertha, 23 years and mother of two children, adopted the same resolution. "I decided not to have more children. If I have many, I can not move forward with them. I have to send them to school, I have to find work to feed them. "
As Rose and Myrtha Ambreville, dozens of people chose a FP method in favor of this mobile clinic. The choices are distributed as follows: 8 Jadelle implants, 20 injectable or DMPA, 38 condoms and 6 tablets.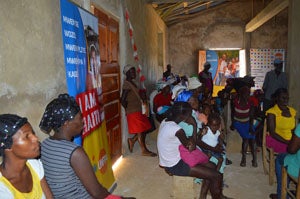 In total, some 200 people were received in this fifth mobile clinic, which offered, in addition to FP services, services in pediatrics, general consultations and antenatal care (ANC), according to the departmental epidemiologist (for the Southeast of Haiti), Miss Germaine Pierre Louis .
The most common pathologies in pregnant women are related to anemia and vaginal infections. While in children they recorded many cases of parasitosis (abdominal pain), anemia, dizziness and headache.
Members of the Southeast Sanitary Direction welcomed the success of this mobile clinic. A wide success which Miss Germaine Pierre Louis and the Head of reproductive health for the Southeast Sanitary Direction, Dr Josette Sanon, partly explained by the fact that "consultations and medicines were, thanks to the support of UNFPA, free."
Dr. Yves Thermidor, Project manager for UNFPA Haiti, was elated that the Ministry of Public Health, through the Southeast Sanitary Direction, could honor its promise to hold a mobile clinic regularly. "UNFPA has been supporting the Southeast Sanitary Direction for years, to increase the supply of reproduction health services in general and family planning in particular," he concluded.