UNFPA: Delivering a world where every pregnancy is wanted,
every childbirth is safe and every young person's potential fulfilled.
8 March 2018
Protecting reproductive rights of rural women: a pathway to a more equal world
UNFPA Executive Director Dr. Natalia Kanem International Women's Day, 8 March 2018 The economic inequalities plaguing much of the world today are reinforced by many other forms of inequality, including inequalities in sexual and reproductive health. More than 200 million women—many of them poor and living in rural and remote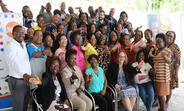 14 December 2017
'Freedom from fear': Ending violence against women
10 December 2017 A joint statement for Human Rights Day, 10 December 2017, from the Executive Directors of UNFPA and UN Women, Natalia Kanem and Phumzile Mlambo-Ngcuka, and the Administrator of UNDP, Achim Steiner Human beings are born free and equal, both in rights and in dignity. This is the fundamental principle enshrined in

Humanitarian Action Fact Sheet December 2017 Key results October 2016 to December 2017...

This document presents the UNFPA strategic plan, 2018-2021. The strategic plan reaffirms...
Events
No content available