UNFPA: Delivering a world where every pregnancy is wanted,
every childbirth is safe and every young person's potential fulfilled.
6 June 2017
UNFPA mourns passing of Executive Director
5 June 2017 UNITED NATIONS— With profound sadness, UNFPA, the United Nations Population Fund, announces that its Executive Director, Dr. Babatunde Osotimehin, passed away suddenly at his home last night.  He was 68 years old. "This is a devastating loss for UNFPA and for the people, especially women, girls and youth, he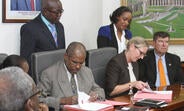 Resources
<p>When Hurricane Matthew struck Haiti on 4 October, it caused the worse devastation since the 2010 earthquake.
Marielle Sander Lindstrom discusses Strategic Plan