UNFPA: Delivering a world where every pregnancy is wanted,
every childbirth is safe and every young person's potential fulfilled.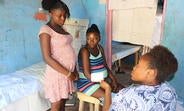 16 August 2017
Mobile clinics deliver essential care to women and girls in remote Haiti
15 August 2017 PICHON/BELLE-ANSE, Haiti – Delicate and petite, Nélia is 25 but looks like a teenager. She has already been pregnant three times, and has endured more than her share of tragedy. She lives in Pichon, a remote community in Belle-Anse, where the nearest health centre is a three-hour walk away. Like most women in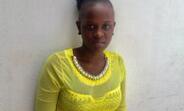 31 July 2017
Child Mothers: Between Fragility and Bitterness
Monique Clesca UNFPA | Former Representative July 26, 2017 This piece was originally published in French in Le National. They are 14-, 16-, and 17-year-old children in Haiti. Their adolescent lives fell apart when they got pregnant—putting their education, their future, and their lives in danger. Jessica Jessica was 13 years
Resources
<p>When Hurricane Matthew struck Haiti on 4 October, it caused the worse devastation since the 2010 earthquake.
Marielle Sander Lindstrom discusses Strategic Plan
UNFPA has just released its latest report summarizing the actions taken, together with...
After outlining the post-hurricane context of Matthew in Haiti, this new humanitarian...